Serving the LGBTQ+ & Straight communities of Knoxville & East TN!
---

Our Upcoming Events
---
MCC General Conference
Friday, July 1st 10:00 AM ~ 8:00 PM
Saturday, July 2nd 10:00 AM ~ 9:00 PM
Sunday, July 3rd 11:00 AM ~ 3:00 PM
Location: MCC Knoxville (Portions on Zoom)
PLAN TO ATTEND PART OR ALL


Don't miss this time to worship, learn, socialize, and connect with 
the
 global MCC at this historic online General Conference Transformational Weekend. We will have some guests joining us from other MCC's. We will have food onsite or breaks to go and eat. Come for some or for all of these amazing, international events. Learn more about 
the
 keynote speakers at 
2022 Register – MCC Global General Conference 2022 (mccchurch.org)
. 
You are encouraged to come join in all 
the
 bold keynote events and worship services. If you have to pick just one or two events, come to 
the
 Saturday Synchronous Worldwide Worship at 4pm at 
the
 church plus Sunday morning worship at 11am, then stay for our Potluck and 
the
 plenary with Padraig O'Tuama will be awesome. 
Friday, 1 July 2022
10:00 AM Devotional Time with an Elder (Live)
11:00 AM 
Welcome to General Conference (Live)
12:00 Noon 
Keynote #1 (Live) – Be Energized by 

the

 Spirit: Kwok Pui Lan
1:00 PM Meals / Social Groups / Kinship Opportunities
3:00 PM Workshops / Open Time / Exhibit Hall
4:00 PM 
Keynote #2 (Live) – Be Moved: Angel F. Méndez Montoya
6:00 PM Meals / Social Groups / Kinship Opportunities
7:00 PM 
Opening Worship (Live)
Saturday, 2 July 2022
10:00 AM Devotional Time with an Elder (Live)
11:00 AM 
Keynote #3 (Live) – Be With: Claudio Carvalhaes
12:00 Noon Meals / Social Groups / Kinship Opportunities
2:00 PM 
Keynote #4 (Live) – Be Holy: Holy Reclamation of Black Identity
3:00 PM Workshops / Open Time / Exhibit Hall
4:00 PM 
Synchronous Worldwide Worship (Live)
5:00 PM Meals / Social Groups / Kinship Opportunities
7:00 PM Workshops / Open Time / Exhibit Hall
8:00 PM Devotional Time with an Elder (Live) 
Sunday, 3 July 2022
11:00 AM 
Unified Global Sunday Worship– Rev. Elder Cecilia Eggleston, Moderator, Preaching
12:00 Noon Workshops / Open Time / Exhibit Hall
1:00 PM Meals
2:00 PM 
Keynote #5 (Live) – Be Peace: Padraig O'Tuama
POTLUCK RETURNS – SUNDAY, JULY 3rd!
Please let us know what you will be bringing. 
https://forms.gle/jdknWRHQ5UtMMZPe7
---
Book Studies Underway – It's not too late to join in!
Two Books and Two Times to choose from!
Tuesdays at 12:00 PM and 7:00 PM Eastern
Location: Zoom
You do not have to read the book to participate although you will get more out of this discussion if you do. The books are available in paperback, Kindle, and Audiobook formats.
Book Study of Queer Theology: Beyond Apologetics by Linn Marie Tonstad (Virtual)
Tuesdays at 12:00 Noon Eastern
---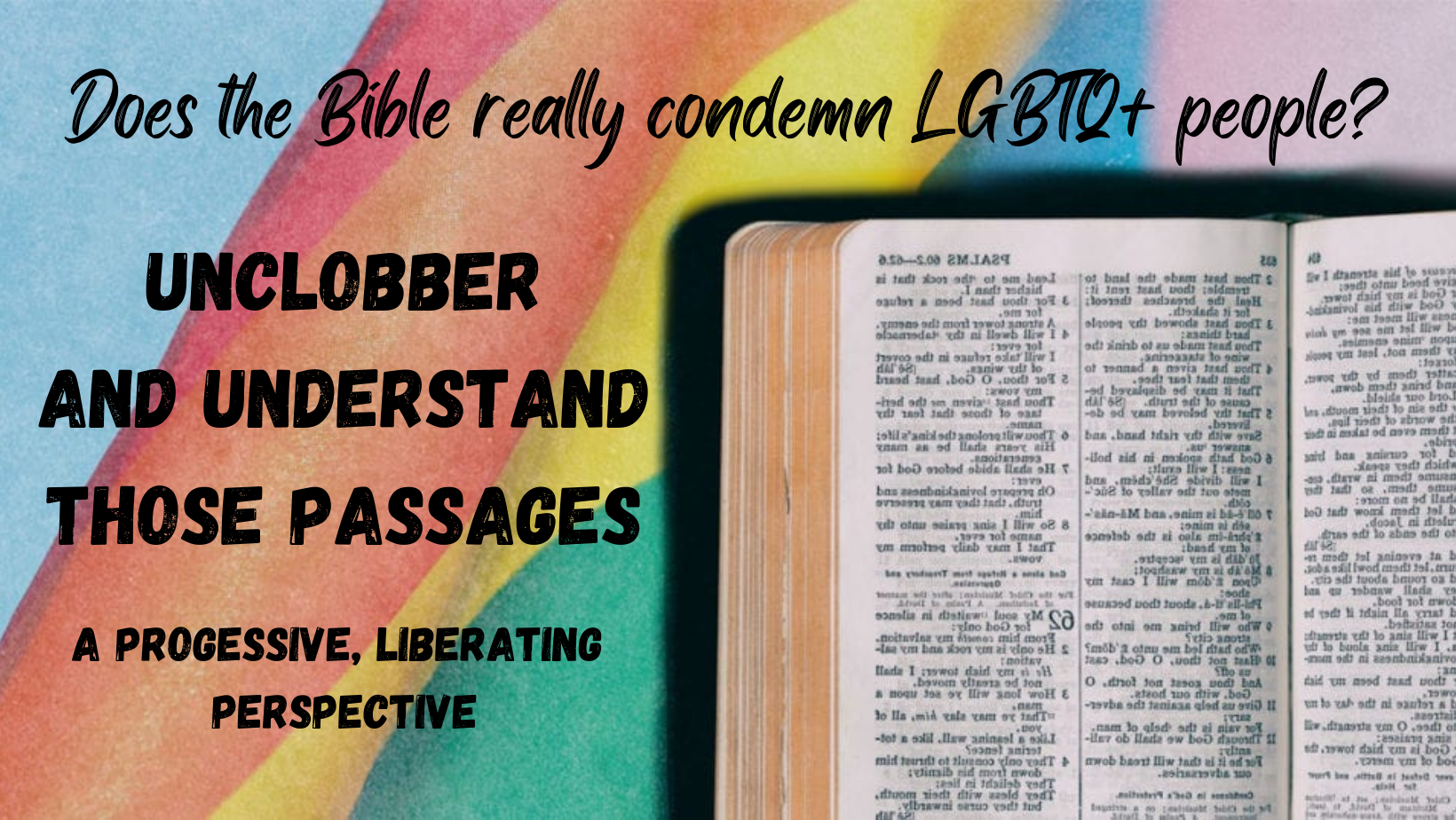 Unclobber Those Passages - 
A Positive Discussion of Homosexuality and the Bible
Wednesdays, June 15th, 22nd, and 29th at 7:00 PM EasternLocation: Zoom
Too often the Bible has been used in an abusive way to justify judgments and exclusion of LGBTQ+ people. Most people have not really studied these passages. Rather, they have been taught to believe there is only one interpretation. Protestant denominations have split over differing views of these passages and the full inclusion of LGBTQ+ believers. Come hear a liberating perspective.
Whether you are a Christian or not, misinterpretations and misunderstandings of the Bible impact oppressive politics, policies and attitudes towards LGBTQ individuals and families. This series will take us through the traditional clobber passages as well as some positive texts. We will look at issues of translation of scripture, cultural/historical interpretation and our assumptions. It will be fun, interactive and informative! Refresh your own  understanding!

Invite someone who has questions. Invite allies and parents of LGBTQ people. Invite those just coming out. Come, unclobber those passages!
---
Friday Night Game Night
Friday, July 22nd 7:00 PM
Location: MCC Knoxville
Our next game night gathering will be on Friday, July 22nd at 7:00 PM at MCC Knoxville. This month we will be playing the usual board and card games.

All are welcome to join in the fun and fellowship. Invite a friend. Admission is free.

Currently (subject to change), because of the lower risk level for COVID in our community, masks are optional. Food and drink are also allowed.
---
Sunday Worship (Onsite & Online)
Sundays at 11:00 AM Eastern
Location: MCC Knoxville, Facebook, and Zoom
The wearing of masks is currently optional indoors during Worship and at other gatherings. The Board continues to review our policy in light of current COVID numbers and public health guidance.
This service will continue to be available on Zoom and Facebook. If you have not previously registered, please register in advance of Sunday morning. Click this Link now:
https://zoom.us/meeting/register/v5Ysf-6gqzst116c1dYPvxfVDO0tUCP5Ow
More information is available here: http://mccknoxville.org/index.php/virtual-services


---
Current COVID-19 Guidelines
The wearing of masks is currently optional for indoor worship services and events at MCC Knoxville. The consumption of food and drink is now also allowed indoors.
The Board has relaxed our COVID restrictions in light of the lower case numbers in Knox County. The Board will be developing a new policy that will align our COVID restrictions to our community's constantly changing metrics. Currently, Knox County's COVID Risk Level is Low on the website www.covidactnow.org.
We thank everyone in the congregation for their willingness to follow our mask and distancing guidelines throughout the pandemic to keep our worship community safe.


---


We are offering indoor in-person worship services at the church on Sundays at 11:00 AM. The wearing of masks is currently optional for those who attend.
This service will continue to be available on Facebook and Zoom.
Visit our Virtual Services page for instructions on how to join us online.
Visit our Donations & Support page for ways you can support MCC Knoxville during these unusually challenging times.


---
A Community of Faith
MCC Knoxville is a Christian Church serving the gay male, lesbian, bisexual, transgender and straight communities of Knoxville and East Tennessee
We come together from a rich variety of religious experiences and denominational backgrounds, seeking to:
Celebrate God manifested in every single person 
Model Christ and share God's immutable love
Be God's hands, feet, and voice sharing the story of Love
We offer our experience and our love -- we share our stories and our journeys -- to encourage and uplift the transgendered, bisexual, gay and lesbian communities of Knoxville and the entire East Tennessee area.  We welcome all to join us, regardless of denomination or background.
Join Us!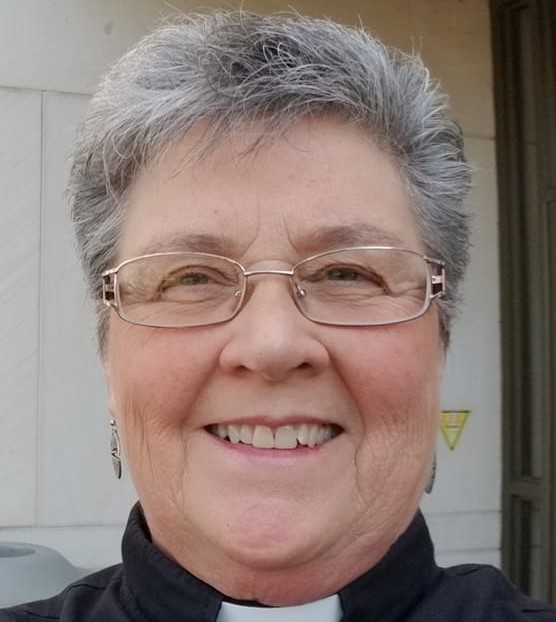 We invite you to attend any of our functions.  Come as you are.  Sunday worship services are at 11 a.m.  You may reach us during office hours by phone - (865) 531-2539, by e-mail This email address is being protected from spambots. You need JavaScript enabled to view it., or through the other methods listed on our Contact Us page.
Communal memory takes shape when we share our stories. In those stories is our longing and yearning for peace, for love, for acceptance, for freedom, equality and justice. In those yearnings is a search for the truth of Spirit.

If you are looking for a spiritual home, come visit us here at Metropolitan Community Church at Knoxville and listen to the voice of the Holy speak to you through the voices of diversity, community, social justice and prayer. We welcome people of many beliefs and backgrounds into the holy space of worship, and pray that you will find justice and peace wherever Spirit leads you.